How to Make Money as a Virtual Assistant
Introduction
In today's world, the demand for virtual assistants has proliferated, and this trend is only expected to continue.
Virtual assistants are individuals who work remotely and provide administrative, technical, or creative assistance to clients. The beauty of being a virtual assistant is that you can work from anywhere and choose your own schedule, making it a great option for those looking for a flexible work-life balance.
Furthermore, the COVID-19 pandemic has accelerated the growth of the virtual assistant industry as more businesses have shifted to remote work, and the need for online support has increased.
As a result, the virtual assistant industry has become a profitable and promising career path for those looking to make money from home.
Becoming a virtual assistant allows you to utilize your unique skills and expertise, providing a great opportunity to work in a field that you're passionate about.
Whether you are an administrative whiz, a social media guru, or a tech-savvy individual, there's likely a market for your skills.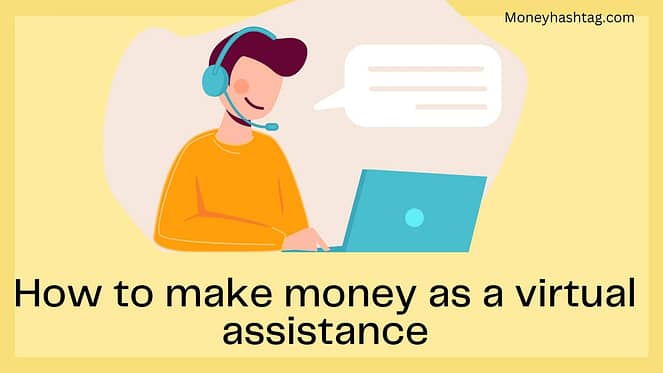 How to Make Money as a Virtual Assistant
Identify your skills and services
As a virtual assistant, one of the best ways to make money is to identify your skills and services and then market those to potential clients.
There are many skills and services that you can offer as a virtual assistant, and it's essential to identify your unique strengths and expertise that sets you apart from other virtual assistants.
What can you offer that will help businesses or individuals?
Once you know what you have to offer, you can start marketing your services and finding clients.
One way to identify your skills and services is to think about what you're good at and what you enjoy doing. Do you have experience in customer service, administration, or social media?
Perhaps you are great at organisation, have a knack for writing, or are a whiz with numbers. Whatever your skills and interests are, there is likely a demand for them as a VA.
Here are some common skills and services that you can offer as a virtual assistant:
Administrative Support: As an administrative virtual assistant, you can provide services such as data entry, email management, appointment scheduling, bookkeeping, and other administrative tasks that businesses may require.
Social Media Management: If you're social media savvy, you can offer social media management services, such as creating and scheduling social media posts, responding to messages and comments, and managing social media accounts.
Graphic Design: If you are skilled in graphic design, you can offer services such as designing logos, creating graphics, and designing marketing materials for businesses.
Website Management: If you have experience in website management, you can offer services such as managing website content, optimizing SEO, and managing website updates.
Content Creation: If you are skilled in content creation, you can offer services such as writing blog posts, creating email newsletters, and developing marketing materials for businesses.
Once you have identified your unique skills and services, you can choose a niche that aligns with your expertise. For instance, if you are a graphic designer, you can specialize in designing marketing materials for a particular industry, such as healthcare or hospitality.
Choosing a niche can help you differentiate yourself from other virtual assistants and attract clients who are looking for specialized skills and expertise.
It's important to choose a niche that you're passionate about and have experience in so that you can provide high-quality services to your clients.
Set up your business
You would not start receiving work as a virtual assistance. You must set up your business.
Develop a business plan that outlines your goals, target market, services, pricing, marketing strategy, and financial projections. Developing a business plan is an essential step in setting up any business. Your business plan will serve as a roadmap for your business and help you stay focused on your goals and objectives.
A relevant business name is important for branding and marketing purposes. Once you have a name, you will need to register your business with your state or local government and get any necessary licenses or permits. The requirements for registering a business vary by location.
Set up your online presence
Having an online presence is crucial to get as many work as a VA. Create a professional website that showcases your services and skills. Your website should include a description of the services you offer, your rates, testimonials, and contact information.
You can create a website using platforms like WordPress or Wix. Have presence on all the social media platforms share content that highlight your skills and expertise. Connect with other professionals in your industry to build your network.
Determine your rates
The next thing you would need to do is to determine your rates as per industry standards and precisely based on your level of expertise. Consider offering packages and discounts for new clients to retain them for longer.
For example, you can offer a discount for clients who sign up for a certain number of hours or a package deal for a combination of services.
Before setting your rates, research what other virtual assistants in your industry or niche are charging. This will give you an idea of what clients expect to pay for your services and help you stay competitive.
Once you have an idea of what others are charging, you can calculate your own rates. You can charge hourly or project-based rates, or a combination of both.
Hourly rates are typically better for ongoing or long-term projects, while project-based rates work well for onetime or short-term projects.
Find clients
As a virtual assistant, finding clients can be a challenging task, but there are various ways to go about it.
Firstly, networking with friends and family can be a great way to start. Let people know about your services and ask them to refer you to anyone who might be in need of a virtual assistant. Word-of-mouth can be a powerful tool in finding new clients.
Reach out to potential clients through social media and job boards. Use social media platforms like LinkedIn, Facebook, and Twitter to showcase your skills and services. You can also search for job boards that cater specifically to remote workers and virtual assistants. These platforms can help you connect with potential clients who are in need of your services.
Cold pitching is another strategy that can work well. Identify businesses or individuals who may need your services and send them a personalized message or email explaining what you can offer and how you can help them. Ensure to tailor your pitch to the specific needs of each potential client, as this will increase your chances of success.
Joining freelance marketplaces can be a great way to find clients. These platforms, such as Upwork and Fiverr, allow you to create a profile and bid on projects that match your skills and experience. They also provide a secure platform for payment and communication with clients.
Building reputation and client base
No matter what business you are in, building a solid reputation and client base is essential to making money. This is especially true for virtual assistants (VAs).
As a VA, your reputation is your most important asset. It is what will help you attract new clients and keep existing clients happy.
A strong reputation will help you attract new clients, while a solid client base will provide you with a steady stream of work and income. There are a number of ways you can build your reputation as a virtual assistant.
One of the best ways is to simply provide exemplary service to your existing clients. This means going above and beyond their expectations, being prompt and professional in all communications, and always delivering high-quality work.
When clients are satisfied with the services provided, they are more likely to leave positive feedback and recommend the virtual assistant to others.
Another effective strategy for building reputation and client base is by asking for testimonials and referrals from satisfied clients.
Testimonials are an excellent way to showcase the virtual assistant's skills and expertise to potential clients, as they provide social proof of the quality of work the virtual assistant is capable of delivering.
Referrals, on the other hand, are a powerful source of new business. When clients refer their contacts to the virtual assistant, they are essentially vouching for their capabilities and reliability, which can lead to more business opportunities.
Building a strong reputation takes time and effort, but it will pay off in the long run.
Continuously learn and improve
As a virtual assistant, one of the best ways to make money is to continuously learn and improve your skills. By keeping up with the latest trends and developments in your field, you can offer your clients the highest quality of service possible.
This involves staying informed about the latest technologies and software programs relevant to your field.
By understanding these developments, you can enhance your abilities and remain competitive in your market.
For example, if there is a new project management tool that your clients are starting to use, you can take the time to learn how to use it effectively. This will not only make your work easier, but also increase the value you provide to your clients.
By continually improving your skills, you can charge more for your services and earn a higher income.
One way to stay up-to-date on the latest trends and developments in your field is to read industry-related blogs and articles.
There are many great resources available online that can help you learn about the latest trends and technologies. Attending conferences and workshops can also be a great way to learn new information and network with other professionals.
Conclusion
If this is something you want to do. Research and dive into the field to get more work.