33 Best Ways To Make Money As A Kid In 2023
Hey! Are you a 12-year-old kid who is looking for ways to make money? If you, then you are in the right place, as I am going to reveal the ultimate guidebook on how to make money as a kid in 2022.
Making money as a kid is not only a great way to get some pocket money, but it's also a great way to learn about responsibility, money management, and entrepreneurship.
When I was a kid, back then, money-making opportunities as a kid were limited to only household chores, watering plants and mowing the lawn. Now, times have changed and the world of the internet is at the fingertips of teens.
However, as a parent I do not want my kid to use tech so much instead prefer them to be grounded with values.
But if they want to be independent and want to take responsibility for finances at an early age, with the right financial education, I suppose they can become a financially sound person as an adult.
However, for younger kids, ages six and up, how much money they earn shouldn't be the focus. As a parent, let them experience the responsibilities. Give them small work load that they can do and reward them for their hard work.
Teach them the values of sharing and doing chores together.
If you see they are already capable enough, back them up to find a money-making opportunity.
Especially during the summer vacation, let them explore with the opportunities.
Here are some ideas to get your kid started with making money:
Ways to make money as a kid in 2022
Pet sitting/walking
Many kids are looking for ways to make some extra money. One way they can do this is by pet sitting or walking. This can be a great way to earn some extra money, as well as get some exercise and fresh air.
To become a pet sitter or walker, you'll need to be responsible and reliable. You'll also need to be comfortable around animals, as you'll be spending a lot of time with them.
The per owners should know that they will be taken care of while they are away.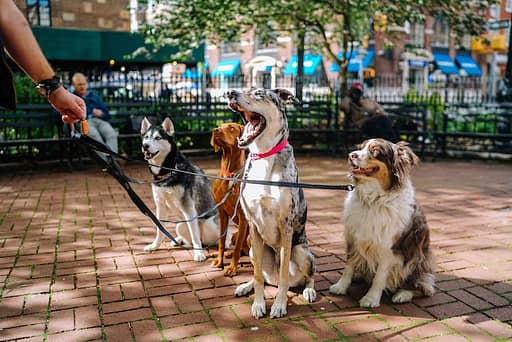 Selling crafts
If your child is interested in selling crafts, there are a few things you can do to start.
You can have a garage sale where you can make some money selling a few items. Or, you can sell your products at a flea market or craft show. This is a great marketplace where you can find new people and showcase your talent.
Even though you are a kid, you must take help from your parents to reach a larger audience and probably can make more money.
Just before the holidays, you can prep and sell Christmas crafts, Halloween crafts and Thanksgiving crafts.
Help washing cars of neighbors
If you are a parent, you can let your kid wash cars of your close family members or friends. Before that, you will need to ensure that your child is old enough to handle the responsibility of washing other's car.
You will need to have the car washing tools like a bucket, hose, soap, sponges and towels.
Help your parents cleaning the dishes
I remember as a kid my mom used to ask me to wash the dishes and after done with everything she asked me to do, I used to get some pocket money as a reward.
While it may not be the most glamorous way, helping your parents with chores around the house can be a great way for kids to earn some extra cash. And what better way to start than by helping to clean the dishes?
You are helping your parents and helping yourself by learning the way of life.
Let your parents know you are willing to help and clean the dishes. Ensure you do the work with a good intention, not because of the money alone.
Babysitting
Whenever I talk about babysitting, it reminds me of the Netflix show 'The Babysitters Club.' An amazing show that every teen should watch.
Babysitting is a great way to make money as a kid. You will get an in-person experience with children. If this is something amaze you, you can pursue it as your career and start a babysitting business.
However, as a kid, you must keep in mind a few things like you need to be sure about are you capable of taking the responsibility of a kid?
You also need to handle the expectations of the parents and communicate with them effectively about their children. Every child is different. Thus, you would need to treat them with care and sensitively.
As you want to make money out of it, you need to make yourself available when the parents need you. If you think you are someone responsible, great with kids, have the patience to deal with the tantrums of a kid, babysitting could be your way to grow your income.
Providing virtual assistant services
Providing virtual assistant services is a great way for kids to make money while developing valuable skills such as organization, communication, and time management. As a virtual assistant, you can offer services such as scheduling appointments, responding to emails, managing social media accounts, and completing other administrative tasks.
Renting out equipment such as camping gear or sports equipment
Are you looking for ways to earn some extra cash as a kid but don't know where to start? Have you ever considered renting out equipment, such as camping gear or sports equipment? It's an excellent way to turn your interests into a profitable side hustle. Not only can it help fill up your piggy bank, but it also allows others to enjoy the equipment they may not have access to otherwise.
If you have camping gear, skateboards or any other sports equipment that are not in use, as a kid you can use them to earn some quick cash.
Creating and selling custom phone cases or other tech accessories
Creating and selling custom phone cases or other tech accessories can be a fun and creative way for kids to make money. With the rise of technology and personalization, there's never been a better time to tap into this lucrative market. You can purchase blank phone cases or tech accessories in bulk and use materials such as paint, markers, or decals to create unique designs.
You can then sell these customized items online through platforms such as Etsy or eBay, or in person at local craft fairs or markets. You can also offer custom designs to customers, which can increase the value and uniqueness of your products.
Organizing and hosting small events or parties
If you have a knack for organizing and enjoy hosting events, then you could make some extra money by organizing and hosting small events or parties. You can offer to plan and host events such as birthday parties, baby showers, or small get-togethers for friends or family members. You can offer services such as event planning, decorating, providing entertainment, or catering. If you are excelling in your small business, you may get sponsors for your event and make money through them.
As a kid, you should start small first later when you will be a grownup can consider this as your income source.
Performing music or street performances
Performing music or street performances can be an entertaining way for kids to make money. Performing music or street performances can be a fun way for kids to make money. You can also perform at local events such as fairs, festivals, or talent shows, and charge a fee for your performance.
Live performances are a great way for kids to make money, as they can keep all the proceeds from their gig. Kids can set up a Lemonade Stand outside of their home and offer to play music for donations.
Selling recordings of their music is another great way for kids to make money with their music. They can sell CDs or digital downloads of their songs online, or at local markets and fairs.
Paint Garages
So, you want to make money? How about painting garages for your family and neighbours?
Gather all your required supplies and tools that you will need to paint the garages. Be sure to ask for permission from your parents and from the neighbour.
Follow the instructions and safety protocols carefully. Once you are finished, ask the neighbour to pay for your hard work.
If you have no idea on how to do, you can watch some videos on the YouTube and take help from an adult.
Watering the plants
As a kid I remember I used to enjoy watering our plants. We had a quite a large garden, mostly flower plants.
I used to water all the plants 4 times a week and my mother used to pay me an amount for helping her. I have always been a keeper, and I have established the habit of saving money at an early age.
However, for a kid of current generation they might show reluctance in this kind of activities. But as a parent you have to motivate them and eventually when they will enjoy what they are doing, give them some money motivate.
Cleaning up your room
By taking a little time to declutter and organize their space, kids can earn some extra pocket money while also teaching themselves valuable lessons in responsibility and diligence.
As a parent you can tech your kid valuable lessons by giving them simple responsibilities of home. Let your kid decide how much pocket money do they want to earn and how much work can they do.
Assign them cleaning work like organizing their room, organizing their wardrobes, cleaning, gathering things around the room and keep everything in places.
Once they are done, pay them the deserving amount and teach them to save.
Help bringing groceries for the elderly people of your neighbour
If you have elderly people living in your locality and they need help bringing the monthly groceries, you can provide them with your aid.
Elderly people always need help. You can be that person.
Weekly you can visit them, get the list of things they need and help them bringing everything. You can charge a minimal amount like $5.
Polishing shoes for your father
There is an old saying that goes, "give a man a fish and you feed him for a day; teach a man to fish and you feed him for a lifetime." The same can be said for children. If you give them an allowance, they will have money for a week. But if you teach them how to make money, they will have money for a lifetime.
Polishing shoes for your father is a quite memorable thing to do. It is great way to bond with your father, apart from making some extra income.
Start a fundraiser
Thanks to the internet, it's easier than ever for kids to start a fundraiser and make money.
You can start a fundraiser for a cause you care about by starting with a campaign, reach out to people and let them know the cause for which you have started your fundraiser.
Your fundraiser could be a success, with a little planning and effort.
Sell homemade cookies
As a kid, if you want to make money, you can start selling homemade cookies in your neighbourhood. If baking is something that interest you, tell your parents about it and ask them to assist to making a few batches of cookies.
If they get sell well, you can think of reaching out to a wider audience. That's something your parents can do for you.
For example, the best time to sell homemade cookies around the block would be during the holiday times. People buy cakes, muffins and cookies a lot during this time of the year for themselves and for the guest.
You can take advantage of the holidays to make some money.
Become a florist
If you're a kid who loves flowers and wants to make some extra money, then becoming a florist is a great option for you. You do not have to work at any flower shop. You can sell what you have grown in your garden in the farmer's market.
You can make money by creating beautiful bouquets and arrangements for weddings and parties. Let your parents assist you in everything, like talking with the clients, billing, other requirements that only adults can manage.
Sell photos online
One of the best ways to make money as a kid from home is to sell photos online.
There are a plenty of websites where you can upload your photos and make money when someone buys them.
Certainly not the easiest way to make money, but if you have the passion for photography and have an impressive collection. You can get them uploaded or share your work at any photography exhibition to make money.
There is a huge demand of high-quality photos. Thus, there is always a high chance people will buy them online for their work.
Become a Paper boy
Paperboys have been around for generations, and for good reason – they're a great way for kids to earn some extra money. You will need a few things to become a paper boy –
A dependable bike that can carry a stack of newspaper. Wake up early in the morning and deliver the newspaper on time.
Not everyone loves to do everything digitally. Something are left good an old fashion way.
Becoming a paperboy will not only help you earn money but also make you responsible enough to manage your finances, being punctual and doing hard work.
Start a YouTube channel
Do you know they're kids around the world who are making a decent figure by managing their YouTube channel? You can post videos on anything that's your passion, such as if you love doing science experiments while experimenting. You can record videos and upload them on the YouTube. Over the years, when your videos will get a lot of likes and visibility, you can switch your channel to monetization.
Based on your channel metrics, you can make money.
Tutor your juniors
Among the lot of different ways to make money as a kid, tutoring is the best. it is one of the best legit ways to make money. If you love academics and great in your subjects, you can help tutoring your juniors. You can set your own hours, rules and get them to pay you for teaching.
For example, if you have scored great in mathematics and English literature, words get spread easily in the neighbourhood.
Every parent wants their kid to do better in academics. They might ask you to help with the subjects and pay you for that.
I love tutoring kids. I used to do that back in my days of academics to earn some money.
Help mommy in holiday decoration
Many parents find themselves short on time during the holidays. Between work, shopping, and entertaining, there is often little time left to decorate the house.
This is where you can help your mommy with holiday decoration. This can be a great way for them to bond with their mother and earn pocket money for the holiday.
Help your parents in their business
Suppose your parents have a dry cleaning business and it keeps them always busy. You can help them out in their business where your parents need.
For example, you can sit at the cashier counter and help. You can help organize the clothes. Whenever your parents need an extra hand provide it to them.
How can you make money out of it?
Well, when kids help their parents selflessly, it makes them happy and they know what could make their kids happy.
Giving money is just to motivate and a reward. But love and appreciation is what any kid would expect.
Grow a garden and sell vegetables in your neighbourhood
Growing a garden can be fun and a rewarding experience.
Encourage your kid to plant saplings of vegetables and take care of them to grow. When they do, you can help your kid selling homegrown vegetables in the farmer's market and make money.
As a kid this will help you instil values and importance of patience while gardening.
Find a good spot to grow your vegetables, learn how to plant a sapling, and the whole gardening process. Take help of an adult when you need. When you have the vegetable ready after months of nurturing, you can start selling them in the marketplace.
Design T-Shirts and sell
Many kids are interested in making money by designing T-shirts. This can be a great way for kids to make some extra money, as well as to get their creative juices flowing.
With the right tools and creative instinct, anyone can create an impressive design, printed them on T-shirts and sell them through different marketplaces.
For example, you can sell T-shirts on Etsy and with each sell you can make money. However, it is not that easy as it sounds. There are people in this who are making money and getting rich.
As a kid you are think it as a platform to express your creativity.
Organize your home closet
Are your closets overflowing with clothes, toys, and other knick-knacks? If that is so, may be you should lure your kids into organizing the home closet and pay them whatever they deserve.
Start by decluttering your belongings you will no longer use. If your hands are already full, you can make a deal with your parents and get it done while earning too.
Sketch & sell
If you are passionate about drawings and sketching, even there you could make money as a kid. You can sell your artwork online, you can make caricatures at the events and you can get hired for sketching real faces and get paid.
Thus, there are money-making options as a kid who loves sketching.
Paint fences
Painting fences is a great way for kids to earn some extra money. By offering their services to neighbours and local businesses, kids can easily make a few dollars.
People always need to hire from the outside to paint their fences. You can build a painting fences service and advertise them by flyers around the neighbourhood.
This is not a very tough job to do for a kid. You can make money when someone hires you and it wouldn't take your whole day to paint the fences.
But ensure you have your parents' permission in this.
Become an essay writer & sell
Do you know you can even make money if you have an incredible flair in essay writing?
In high school and college, you can score high in essay writing. But not everyone has the control on their writing skill. Not everyone can impress or put into words in the paper what they think and feel.
Thus, if you think you have that talent, you can turn it into a money-making thing.
For example, you can write an essay with a given topic for an XYZ person and get paid. You can charge as per words. Like, if the essay is required to be of 1500 words, you can fix your rate accordingly.
Lemonade stand during summer
Lemonade stands are a popular way for kids to make money during the summer. But how does a lemonade stand work and how can kids make the most of their lemonade stand business?
First, you'll need to find a good location for your lemonade stand. A busy street corner or park is a great option. Once you've found a good location, you'll need to set up your stand. This includes setting up a table, chairs, and umbrellas (if you're selling lemonade on a hot day). You'll also need to ensure you have enough lemonade to sell.
During summer, people love sipping lemonade from around the corner of the street.
As a kid this is the best thing you can do.
Start a podcast
Podcasting has begun to hold a place in the mainstream. People love streaming videos but some love even more to listen. May be that audience is not wide and yet there are scopes for podcasting to do better.
If your kid has the knack for speaking and love expressing or telling stories. They can try podcasting and start to build an audience. Soon when you will reach the right audience, brands might find your content interesting enough to collaborate.
Sell your old toys
You can make money the most easy way by selling your old toys online. Accumulate all your toys. Assemble them at one place. Keep the toys aside which you don't play with anymore and upload their photos online and wait for someone to buy them.
Final words –
There could be many more ways to make money as a kid. These are some of the ideas that I have and could think of.