How to save money on home renovation: 17 Best Ways
Do you have plans to renovate your home? Are you worried about the renovation cost? Are you looking for ways to save money?
If that is so, you have landed on the right page then.
Home renovation can be an expensive and time-consuming endeavor. But it's your home, and renovation can protect your home from getting damaged. You can give your home a new design and it could be a great investment.
But if you have a budget and you don't want to exceed your budget, there are ways to save money on your renovation without sacrificing quality.
No matter which part of your home you renovate, it will gonna cost you always. With some strategic thinking about design, materials and negotiation, there are chances you can complete your home remodelling project within your given budget.
17 Effective ways to save money on home renovation
When planning your renovation, it is important to first set a budget. Once you have a budget in mind, you can start looking for ways to cut costs.
Sticking to the budget is always important. Whether you do grocery shopping or plan a vacation, if you stay within your budget, you won't ever overspend on anything.
At first evaluate how much renovation work is required for your home. Then, do your research on the approximate cost of the overall project. Then set a budget as per your savings and income. Once your budget is set, now all you have to do is to stick with it no matter what.
You certainly have to be mindful of your spending, to stop going over budget. How much cost it will be depends on how big is your renovation work?
Consider all factors like cost of materials, labour cost, designing cost and so on to set your budget.
Plan
Planning plays an important role in home renovation. Indeed, if you plan well, it could save you money. When you carefully plan your project, you can avoid common mistakes that lead to cost overspending.
Home renovation is a big investment. A big part of your savings will be gone. Thus, take as much time as required to evaluate the project. Consider all the options before you begin.
Plan everything, the expected expenses and the unexpected too.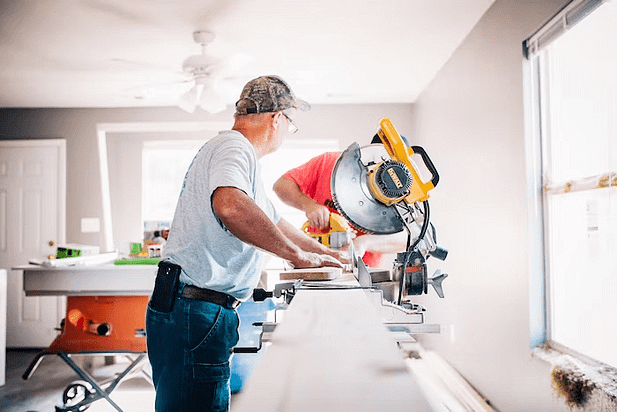 Recycle and reuse
Recycling and reusing materials is a great way to save money on home renovation. Renovation cost can quickly add up and soon you will find all the bills that will bring tears.
A very practical tip on saving money on home renovation is to recycle and reuse materials whenever possible.
It is not only eco-friendly but also can save you money on the renovation work. Of course, you have the complete control and freedom to do whatever you want to do on your remodelling work. But when you want to save money, you have to be open to more sustainable options.
For example, you can use recycle and reuse materials on flooring, countertops and cabinets. Tell your contractor that you are open to recycle and reuse materials so that they could use them wisely.
Think out of the box ideas. Think about how you can repurpose old materials for your new home renovation.
They will significantly help cut down the cost of your renovation. Research and consult with your contractor about what materials can be reused. If those are already available to you, it's a winning moment for you.
Hire the right contractor
A good contractor can save you money on your home renovation work, also can work efficiently. As home renovation projects are expensive. It's important you hire a better and an experienced contractor who can do your work faster and with a fewer headache.
How will you find the right and a better contractor?
Start by asking for recommendations from friends and family members who have recently worked on their home renovation project.
You can also find the best professional contractor over the internet. Check their online reviews before you finalize them. Make a list of a few good contractors, call them, and arrange meetings to discuss your project.
Find the right contractor from the best resource who can manage your home renovation project brilliantly, with no mistake. Also, can complete the project within your given budget.
Evaluating the Cost of Materials
Did you know that one of the biggest factors in the cost of a renovation is the cost of materials? Evaluating the cost of materials is a necessary step to be taken before you begin with your home renovation project.
Access and understand what all materials you would be needed for your project.
You can begin by visiting different stores to compare the prices and quality. You wouldn't mind to pay a little extra for the sake of quality.
Because you are making an investment and if you buy poor quality of materials for your renovation work, there are high chances after few years your home will start to crumble. You can avoid that terrible mistake by choosing quality over anything else.
Now, when you look for the best quality, it will cost you. As you are looking for ways to save money on your renovation work, you have to decide where to pay a little extra for the quality and where to cut down.
Keeping a balance between quality and cost is crucial.
While checking the cost of materials, ask for quotes from the local supplier, negotiate aggressively, look for discounts and calculate the cost of delivery and installation when calculating the total cost.
You may have to spend time on this, but ensure you are getting the best to keep everything under your budget.
Shop during sale/discount
Many people wait for the big sales and discounts before they start their home renovations. Honestly, this is one of the best way to save money on home renovation.
The benefit of shopping during sales and discounts, you can get the same quality product at a much lower price. But to avail such sales and discounts, you must know some disadvantages too.
Most of the stores inflate the prices of the product before sale. So, when you may feel you are saving, but in reality, you are not.
This happens all the time, both online and offline.
Thus, it's important to compare prices prior to the sale.
If you are buying in bulk, don't be afraid to ask for a better price. Keep your options open. Keep 3-4 stores in hand. If you are not getting a good deal at one store, you have three others in hand.
Just because there is a sale, you may get tempted to buy more. Have control and purchase only what is needed for the home renovation project.
Stores like Home Depot often give a big discount on their hardware products, take benefit from that. Haul materials on your own instead of paying extra for delivery.
Avoid debt
Whatever route you decide to take, avoiding debt is always a great way to save money in general. It is often seen that people take a loan to finance home renovation. Although opting this option, you won't have to touch your savings.
However, I don't think this is the best option to, as it can lead to interest payment overtime.
If you have a shortage of money, you don't have to do the entire renovation work at a time. You can only do the repairment of the part of the house which is damaged. Or, you can do the renovation work in instalment.
Opt for durable materials that will last longer and require less maintenance
When renovating your home, it is important to select materials that are durable and will last for many years. This will save you money in the long run as you won't have to replace materials as often or perform repairs as frequently.
For example, if you are repainting your walls then latex paint is a good option as it is resistant to water and fading. For new floors, engineered hardwood or tile are good choices as they can withstand heavy foot traffic.
If you're renovating a bathroom or kitchen, consider using granite or quartz countertop instead of laminate; they're more expensive upfront but they'll last longer and require less upkeep. Look for materials that are easy to clean and maintain. Consider the lifespan of the materials you choose and compare the costs of replacing them in the future.
Do your own painting
Many people hire professional painters to do the painting work of their home. However, I think painting is fun and we can do it ourselves if we have the right tools. It is an easy to do DIY project where you can save enough money.
You can choose the paint colors, get the wall painting tools or hire them and begin the project.
You may take more time than a professional contractor will do. But the fund you will save can be used on completing other renovation work.
Don't overspend on high-end finishes and fixtures
It's tempting to want to splurge on high-end fixtures and finishes when you're renovating your home. After all, who doesn't want a luxurious bathroom or kitchen?
But the reality is that overspending on these items can actually end up costing you more in the long run.
Here's why:
They may not increase your home's value. While you may think that adding top-of-the-line fixtures will make your home more valuable.
You could go over budget. If you're not careful, it's easy to go over budget when you're purchasing high-end items. Before you know it, the cost of your renovation has skyrocketed and you're left with an unfinished project.
If the housing market is down or buyers are few and far between, you could end up selling your home for less than what you paid for the renovations.
By being mindful of your budget and avoid overspending on high-end finishes and fixtures, you can ensure that your renovation project stays within your means while still achieving your desired look and feel. By keeping your remodel relatively simple and neutral, you can change things up more easily.
Keep minimalistic home design
There are many benefits to having a minimalistic home design. Most people prefer to have a complete and exclusive home renovation. Surely, they do that when they have money.
In contrast, minimalistic home design can actually give a more sophisticated look and can save you a lot of money in the long run. It is not only elegant but easy to maintain as well.
You will have fewer materials to buy. You won't have to pay excess on the labour cost.
Keep the design simple and purposeful. Eliminate all the unnecessary features. By having a simpler home renovation, you can also avoid hiring a professional interior designer.
Thus, without spending a fortune on your home renovation, if you consider minimalistic home design, it can save you a considerable amount of money.
Don't change the home layout
When planning a home renovation, it can be tempting to go for a complete overhaul of the layout. However, there are some situations you may need to change the major part of your home layout.
Analyse what part of your home needs renovation. Try to avoid unnecessary expenses as much as possible. If you don't touch the layout of your home, you can save enough money from the renovation budget.
For example, your kitchen needs a proper remodelling. But you are tempted to make a change in the other part of your home, too. Question yourself, is it necessary to change anything in that part of your house? Is it necessary to spend extra on the renovation?
Even if you plan to make a major renovation. Consider not to change the main layout of the home. As it is likely to cost you more than you think.
Stick with the existing layout of the home and consider if a few tweaks here and there can give you the best result that you want.
Negotiate
How well can you negotiate? Do you know having a good negotiation skill can help you save a lot of money? While renovating your home, your negotiation skill will be handful with the contractor.
The better you negotiate, you can put yourself in a position to get the best possible price for your renovation. Research. Take the time to research the ongoing rates for the services. This will help you to negotiate the best price with the contractor.
Be open to accept compromise. Sometimes contractor will agree to negotiate at your price but they may ask you to compromise in something else. If that's fine for you, you can finalize the deal. Or, be willing to walk away from the negotiation.
Compare prices
How Comparing prices can save money on home renovation?
When you are investing quite a lump sum of amount on home renovation, it's important to get the best value for your money.
Comparing prices is one way to do that. You can consult different contractors, see how much they quote.
It's not only about the cost, though, you must ensure whichever contractor you choose to give the best services.
Look for their experience and previous work sample to ensure their quality of work.
Once you get the right contractor in terms of cost and quality, freeze them by paying an advance.
Choose eco-friendly products
Eco-friendly products are not only good for the environment but can also save you money on your home renovation. These days, people are becoming thoughtful about saving their environment.
Eco-friendly products are more energy-efficient and have a longer lifespan. Thus, it means they are money-saving products. Market analysis has shown that people are buying more eco-friendly products for their home.
There is one more benefit of remodelling your home using eco-friendly products, they are made from recycled materials.
Thus, you can see the overall cost of home renovation gets reduce when you opt for eco-friendly materials.
Don't throw your furniture if they are not damaged
One of the best ways to save money on a home renovation is to use old furniture.
Do not throw away your old furniture unless they are damaged. While renovating your home, you can consider keeping the old furniture to give an antique look in your home.
Not only will it save money, it will rather add charm and character to your home.
If you want to bring a new look in your home and have a feeling that the old furniture is not matching up. Instead of just throwing away, you can either sell them at a thrift store or refinishing and repurpose them.
This can save you a lot of money and can you those funds by upgrading your renovation work.
I have a thing for old and antique furniture; the woodwork is so detailed and it gives a unique touch to your home.
Of course, nothing against the modern furniture. They look quite elegant. They fit the modern culture. Both are very different.
However, I think old furniture is more durable than the modern stylized furniture.
Bring home remodeling materials yourself
So, there are several ways to save money on home renovation, and one of them is to bring home remodelling materials yourself.
There could be a lot of materials that you would need to bring home on the process. Calculate yourself, if you take the delivery service every time, how much it will going to cost you.
Although this can be a tiring work. But if you want to save money on this, you have to compromise your comfort.
Of course, you can not bring everything on your own. For certain heavy materials, you would need help.
You can easily bring with you materials like light fixtures, paint, small tools, and so on.
If you are hiring a contractor, they wouldn't let you do anything as everything comes in a package. They will provide you with the end-to-end services. In that case, bring materials on your own won't help you saving money.
However, if you are considering taking up the remodelling work on yourself, you certainly have to handle everything on your own.
What adds the most value to a home renovation?
A home renovation can add significant value to your property, but it is important to consider which improvements will add the most value before starting any work. 
Many homeowners choose to renovate their homes to improve the quality of life or to make a profit when they sell. The most important factor in any renovation is the budget. It is important to set a realistic budget and stick to it. Renovations can quickly get out of hand if the budget is not managed properly.
Some of the best investments you can make in a home renovation are:
Kitchen renovations: A new kitchen is always a big selling point for a property, as it is one of the most used rooms in the house. Investing in high-quality appliances and finishes will give your kitchen an updated look that potential buyers will love. 
Bathroom renovations: Just like with kitchens, potential buyers are always impressed by updated bathrooms. If your bathroom is looking dated, consider investing in new fixtures, tiling, and lighting.
Flooring: Old or damaged flooring can make a home seem dated and less cared for. Replacing old carpeting or worn out tile with new hardwood floors or high-quality laminate can give your home an instant facelift.
Last words-
Home is peace. It's an investment for life. It is perishable. With time, it gets damage. So, to protect your home, renovation is key.
You can save money on everything. Patience, planning and perseverance are all you need.