8 Best Apps for Budget Tracking 2023
Budget apps can be a great tool for helping you stay on top of your finances. They can help you see where your money is going and how much you have left to spend.
Almost everyone has a budget these days. Whether you are a stay-at-home mom or a corporate CEO, you probably have some sort of budget that you try to stick to.
We are constantly running behind everything and sometimes we get lost and could not maintain our budget schedule. This is where all these budget apps come in handy.
These apps are designed to help you track your spending, help in managing your money, give your ideas on savings. Basically, make your job easier to keep a track of all your finances and give you a complete control over your money.
There are several budget tracking apps for android and iOS. It is easy to get confused with which one to download and which will help you genuinely.
If you are struggling to keep a record of your finances and it is hampering your financial goals, here is a list of the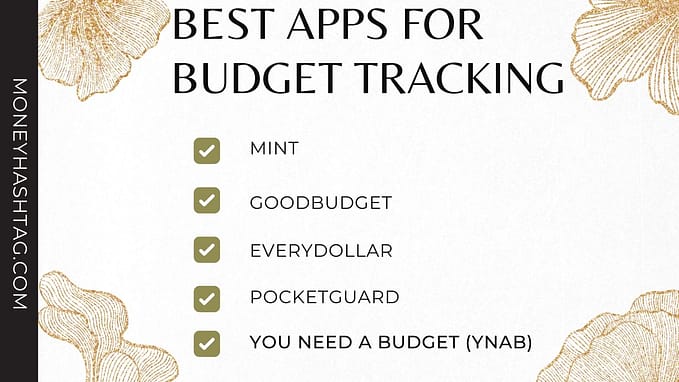 Best Apps for Budget Tracking to consider this year.
Mint
By far Mint is one of the most popular and preferable budget apps, purchased by the international software company Intuit in 2009.
The app is available both on the App store and Google Play store. Mint has earned a spot on Forbes Advisors' Best Budgeting Apps and is worth considering for.
The best thing about this app is it is free to use and allows you to connect with all your financial accounts. It gives you a complete picture of your spending. You can use the app to create a budget, track your spending, and set up savings goals.
After connecting your accounts with the app, you can track all of your monthly bills and receive reminders too.
Not only this, the app let you track your transactions and categorizes them to simplify tracking. You can customize further by adding tags and reorganize transactions as needed to track your spending better.
If you continue with the free plan, you will have to bear the pop-up ad. They also have ad-free or premium subscribers where you will see no ads.
Talking about the security of the app, it is top-notch. They use strong encryption, multi-factor authentication, and other security protocols to keep every account safe and secure.
Mint is not an investing app; it will only make your budgeting stress-free.
Goodbudget
Budgeting app like Goodbudget is a great tool for strengthening your financial habit. It is by far one of the best budget app for beginners. People who have simple financial needs and need a little nudge in managing their finances, this app is great for them.
They have a straightforward tracking expenses system, where a user can monitor their monthly expenses closely.
The app is available both for iOS and android and can be accessed directly through their website. All you need is to sign-up and fill up some information.
Now coming to the point, how does the app work?
It is designed on using the envelop system, which we commonly known as 'household account book.' The app will let you evaluate each expense you have each month, along with how much is saved.
It is a digital budget envelope. You do not need a book. You can record everything on this app.
The app features 256-bit encryption, the same level of protection used for personal information by banks. There is a quite tight security protocols they are using to keep their users' personal information protected.
EveryDollar
EveryDollar is a budgeting app created by Ramsey Solutions. It has a simple-to-use, clean and functional visual aesthetic.
The app works on the zero-sum budget. Basically, it means it lets you customize your budget in a way that gives you a full control over creating your budget.
You sign up, create an account with an email verification mail sent to your email address. Once you have clicked on the verification box, it will take you to the landing page with a 'take me to my budget box.' From there, it will direct you to goals like –
Pay off debt
Save for retirement
Stop living pay to pay (paycheck-to-paycheck
Pay for kids' college
Save for a home
Travel
You can choose your goal, and they will ask you certain questions. Once you enter your monthly income, it will take you to the budget section where you can customize as per your need to fulfill your financial goal.
However, I find it a bit expensive with the plans they have. But if you are serious about your budget and you cannot maintain it due to your other work commitments. If you can afford the app, it would be a great investment to simplify your finances.
Pocketguard
PocketGuard is a budgeting app available in the U.S. and Canada only. It is a personal finance and wealth management platform, which helps you track your spending, create a budget and lower expenses.
To track your expenses, you will be required to link your credit and debit card to the app. It will automatically upload all your transactions.
When users fill out their profiles, the app lets you enjoy spreadsheets as part of your budgeting journey. All your transactions get directly linked to Microsoft Excel.
Once you use the app, it will unwind before you all their additional features, too.
Talking about how secured they are?
It is equipped with 256-bit SSL encryption. They also use biometrics and a PIN code as their security measures.
Wallet
Wallet is another one of the best budget apps that I would use to track my spending habits and the keep a tab on all the transactions.
It will be useful particularly if you have multiple accounts which you use for expenses.
The app works by adding all your financial accounts and syncing your transaction history. Then you can review, learn, and adjust your spending by using preset categories or customize your own.
It is pretty much easy to use. Best for the beginners.
The app also offers its users a customisable goals feature which allows you to add goals to let you figure out how much to save periodicallyto achieve your target.
The Wallet app by Budget bakers is a useful budget app and the premium cost is reasonable too.
Digit
Budgeting can be a stressful thing for some and this is when apps like Digit come to rescue by automating the work of saving and investing.
Digit is a microsaving platform created to help you save small bits of money over time.
Unlike other budgeting apps, Digit serves you different. It won't help you towards a car down payment. But it will help you setting smaller financial/saving goals to save you during an immediate emergency like savings for a summer vacation or a car repair.
The savings account within the Digit app can be redirected to over one bank. They are partnered with all the major banks. Like any other budgeting app, Digit is fully encrypted to provide you with the best security.
Wally
Wally is also a personal finance app that helps keeping tracking on your spending and allows you to set goals to control your expenses.
You can make smarter financial choices using Wally app. You can log every day, upload receipts to the app and add the amount you have spent on each thing.
There are additional features too that you can make use of using the app like it brings up a list of nearby places where you might have spent money.
There are several options that the app gives you to simplify your tracking experience.
You Need a Budget (YNAB)
I am keeping the best one for the last and that is 'You Need a Budget' app. The app is one of the popular budgeting app launched in 2004, which aim only to help people save money.
Like any other budget app, you can link your bank account to the app and import transactions.
You can create categories within your budget for bills, as it doesn't have the feature of paying bill.
Nothing much to say about the app. It is user-friendly and fulfills all your budgeting needs that you might require keeping a track and save responsibly.
Which budgeting app is most secure?
There are a lot of different budgeting apps on the market these days, and it can be hard to know which one is the most secure. However here are a few things to look for when choosing a budgeting app: 
One important factor is security. You want to make sure your budget and financial information is safe from hackers. look for an app that uses encryption to protect your data. This means that your information will be safe if the app is hacked or someone tries to access it without your permission. find out what kind of security measures the company behind the app takes to protect your data.
Another thing to consider is how the app stores your data. Make sure that the app does not share your personal information with any third parties without your consent. If you are looking for a secure budgeting app, consider these factors before making your decision.
Otherwise some of the most popular and secure budgeting apps include Mint, YNAB, and EveryDollar.