12 Ways to Save Money on Rent Without compromising On Comfort
Rent is one of the biggest expenses that many people have to deal with. Living in the city has become a nightmare if you have a low income or your livelihood depends on a single income.
There are so many bills to pay and the monthly expenses are on the rise. Unless you have a surplus amount already in your bank account or your monthly salary is double or triple the salary of many households. It can be difficult to find ways to save money on rent.
Rent prices have gone up for the past few years. Due to the Covid situation, the real estate market was stagnant and so were the rental prices. But from 2022, it's taking the peak.
In this blog post, we'll explore some of the best ways to save money on rent. These are some of the practical tips that I have been following and successfully have been able to save up a little of an extra cash.
I have been living on rent for the past 6 years now in different cities and the experience has been widely different over the past years. When I first moved out from my parents' house, I used to pay a rent of 11k. Now in 2022, I am paying 22k for the same 2bhk.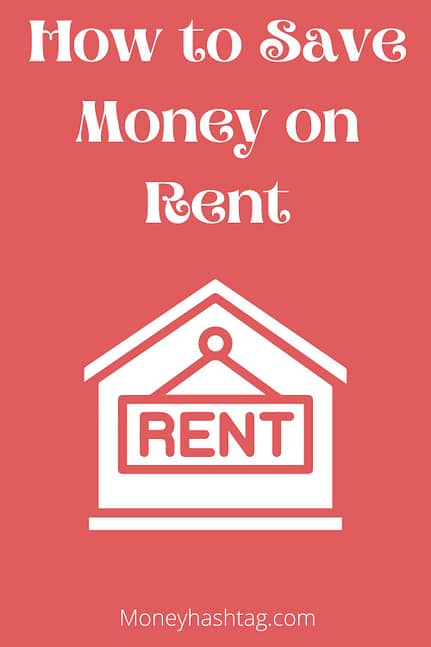 12 Ways To Save Money On Rent Without compromising On Comfort
Calculate how much can you afford
When you have a fixed income, you have to budget your monthly spending. How much you are spending on what and where? Before you start looking out for rental property, you must figure out how much can you afford on renting.
There are a lot of factors to consider when trying to figure out how much you can afford to save on rent. Your income, your living expenses, and your debt all play a role in determining how much you can afford to put away each month.
For example, if you have a budget of $800 for rent, you have to look at places where you can get a house within this budget.
Choose your location wisely
Once you are clear about your rental budget, the next step would be to choose a location where you can stay.
Location is key when it comes to finding a place to rent. You want to find a place that is close to the things that are important to you, like your job, school, public transport, and markets.
But you also want to find a place that is affordable to you.
Select an area first and then select all those rental places that are available. Your next move will be to check out the monthly rental cost of those places.
How costly the rent would be highly depends on what your of location it is. Some residential locations are costly because rich people live there. Again, if you choose to stay in the middle of the city, certainly the rent will be high.
Thus, take your time before you consider where to live.
Choose long-term lease
A long-term lease can have many benefits for both a renter and for the business owner too. One, it certainly helps save on rent costs. Usually a two-year lease is the best option. You will have a two-year agreement with a fix rent.
If you have a business and are looking for a new space, it's better to sign a long-term lease or a shorter-term lease. You might have to pay a lump-sum amount, but you will save if you can go on a negotiation.
Usually, long-term leases come with lower monthly rental rates. Second, you'll have more stability and predictability with a long-term lease, which can be helpful for budgeting and long-term planning.
Hence, look for places where the landowners are open to long-term leasing.
Negotiate your rent
If you have a good negotiation skill, it will always help you to break a good deal.
Always negotiate as much as you can. While searching for a rental apartment, do not go through any middle man. Try and talk to the landowner directly. Talk politely and get the best deal using your negotiation skill.
But you need to be prepared as some landlords do not entertain negotiation. In that case, you need to set your budget and stick to it. If they agree, it's great, but if they don't you better move on to the next.
Before you start negotiation, do research about the current trend for rent of that location.
For example, where I am currently living as it is near to the IT area, the rent is high. Usually, landlords are not open to negotiation as they have a wide option. They always get tenant immediately after they post an ad.
Whereas just 15 minutes away from where I live, there is another residential locality where the rent is considerably low and negotiation works better there.
Thus, research will help you in negotiation.
Choose a place closer to the public transport
There are many reasons why you should choose a place to live that is closer to public transport. If you stay closer to the metro or bus stand, it can help you save on travel costs.
As commutation will be easier, you don't have to travel every time on your vehicle. You can thus save money on gas. In addition, it can also help you save on the cost of parking. You can easily avoid the cost of parking by using the public transport instead.
You know how living in a city can be. Another thing you can do is to live in the suburb where you have a good public transport connectivity.
Get a roommate
If you are new to the city and finding it hard to afford an apartment. What will you do?
Living with a roommate can be a great way to save money on rent. You can split the cost of rent, other bills, and it can also be a great way to make new friends.
Especially when you are in the University or new to the city starting a new career and you don't have much budget to spend on the rent only. Sharing your apartment with a roommate can help you and is one of the best way to save on rent.
Since you will share your space with someone else, you ill need to be comfortable and willing to make some compromises on certain things.
If you can do that, you will be benefitted.
Buy used furniture
When you move to a rental property, some landlords provide you with the basic furniture like a bed, sofa, dining table, modular kitchen and a few other things. But some don't.
Furniture is one of the most important things in a home. It not only provides comfort and utility, but it also helps to define the look and feel of a space.
Even though you are living on a rental property, it is your home till the time you are staying here. You can't live in a vacant home. Thus, furniture is needed.
For many people, buying new furniture is the preferred option. But when you are a bachelor or student, used furniture works fine.
They are affordable and save you money.
You can find great deals on furniture online. There are many websites where you can look for used furniture at a reasonable price.
The main reason why I am suggesting buying used furniture over the new ones, as you can avoid the high costs of buying new furniture from a store.
Usually, when you are a student or a bachelor, your stay is not permanent or long-term. So, purchasing new furniture is a waste of time and money.
It is very unlikely when you have a family or you are married. Once you have a family, your mindset is different, you are likely to look for a long-term stay even if you are renting.
You would prefer to buy furniture over used furniture.
That's why saving money on renting becomes easier for a bachelor.
Avoid paying to a broker
Many people don't realize that they can avoid paying a broker fee when they rent an apartment. People hire a broker to save their time, but they hardly make any difference.
They hardly do the negotiation, as most landlords prefer to talk directly with the tenant. It is you who has to the do everything. The broker will only help you to connect with the landlord. Are they worth enough to pay an entire month of rent amount?
You are paying a month of rent amount to the broker once you get an apartment.
Thus, you can avoid connecting with a broker and save the broker fee.
Instead, you can do your research and find rental apartments yourself.
You can post your requirement in different Facebook pages, search online listings, let your friends and colleagues know that you are looking for a rental space to stay. Or, the best way is to contact the property owner directly.
Broker fees can range anywhere from 8-15% of your total rental price, so if you're able to find an apartment without a broker, you could potentially save hundreds of dollars.
Especially, if you are going to live in an expensive city like New York, LA, Mumbai, Tokyo, London and so on. You can't imagine how expensive a broker's fees can be.
While it certainly will take a bit more effort to find an apartment without a broker, but it can be well worth to save money on rent.
Choose a smaller room
Moving into a smaller room may initially seem like a downgrade. But in reality, it can be a great way to save on rent. Usually, the amount of rent you pay depends on how big your room is. If you have a bigger room and you are sharing it with someone else, then it will cover your expenses. But if you live in a bigger apartment, you could consider swapping into a smaller room to save your monthly rent.
Living in a smaller space will mean that you'll have to be more organized and minimalist in your approach to life. But if you can make it work, you'll be able to save a lot of money on rent.
And you can use the saved amount to invest in other areas of your life.
Rent your extra space
Many people are now turning to the sharing economy to make some extra cash, and one of the most popular ways to do this is by renting out unused space in your home.
Suppose you have a storeroom which remains unused. You can make use of it by renting out the space to someone else to stay.
You can arrange the storeroom into a proper room and put flyers for 'want tenant.'
You can get the benefit of renting out the extra space to manage the cost of your rent. You can earn some extra cash.
This is a great opportunity to save money on rent. Just be sure to weigh the pros and cons before you make your final decision.
Save on your utilities
It is no secret that saving money is important. In these tough economic times, every penny counts. So what are some of the best ways to save money? One way is to save on your utilities.
Your utility bills are separate from your rent. You would need to calculate and stick to your budget. Find out practical ways to reduce your utility bills.
For example, if you can find a cheaper energy supplier or energy-efficient equipment, you could potentially reduce your energy bills. This could free up some extra cash which you could put towards your rent. Thus, it will balance your finance without stressing you.
There are a plenty of ways that you could follow and help yourself in reducing energy bills at your household.
Sometimes, even if you are on a tight budget regarding your rent, you may not get what you are looking for. You might have to pay a little extra to get to a safe neighbourhood, to stay closer to your workspace and so on.
It is then, you would need to balance your finances and saving enough on the utility bills can help you achieve your finance goal.
Be polite with your landlord
Few people would dispute the fact that being polite can help you in many aspects of life.
You may be surprised to learn, however, that being polite to your landlord can actually help you to save on rent. While negotiating if your landlord is impressed with your behaviour, there are high chances they will lower the rent prices.
If you can build a good rapport and a good relationship with the landlord, you can get favour like if ever you are late in paying the rent, they won't create any trouble.
Or, if something is required to be repaired, they can do that for you immediately.
Also, being polite can help you to avoid conflict with your landlord.
Last Words –
Inflation has forced us to find out ways on everything wherever we can save money. Living in a city can be painful when you have to pay a high rent. With a little effort, planning and twist saving money on rent is possible.