29 Legit Ways to Make $100 a Day
Looking for legit ways to make $100 a day?
Imagine what could you do with some extra cash you are earning most of the days along with your monthly salary.
Say, your monthly salary is $3000, and it is paying for all your family expenses. But if you could add some extra cash monthly, you can either save them up or use them in paying your debts if you have.
I know it is hard to continue any part-time job while you are already on a full-time regular job. It is hectic and leave no space in your life for any fun.
But when you need money, a person has no better option than taking up both the jobs.
What if I could suggest you some legit ways to make money that require no hard work? You will get paid guaranteed.
The internet world has opened many doors for money-making opportunities. And there are several easy-going part-time jobs that could easily give you $100 a day.
You can always make use of $100.
Some you can work from home, whereas for some you have to travel and work for an hour or 2 maximum.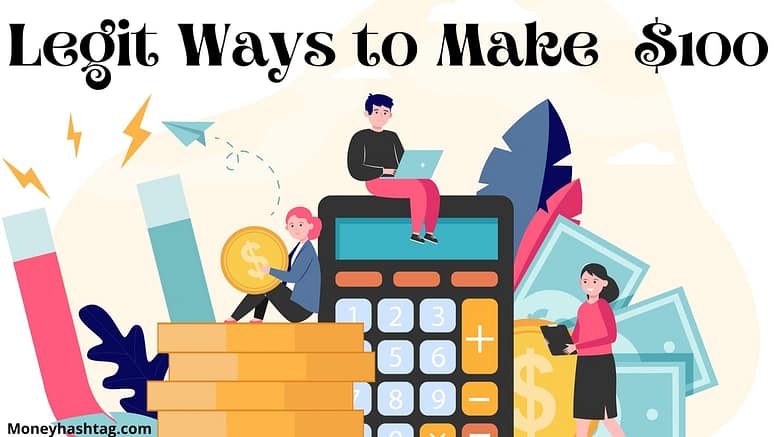 Here, are the –
Legit ways to make $100 a day and save more money
However most apps, don't work outside the US.
Walk dogs
To walk a dog, you wouldn't require any specialized skills. If you are an animal lover and have some time after your regular job hours. You can take out other people's dog for a walk.
There are people who doesn't have the time to take their dog out for a walk every day. You could do the same and earn some money hourly.
Usually, for an hour of dog walk, you could get $20 -$30. This solves a dual purpose. You are earning as well as taking a walk, which helps you keep healthy.
You could check out the app Rover, which provides services for dog boarding, dog house sitting, dog walking, day care. You can become a sitter in one of these apps and get clients to earn money.
They get paid more for more hours.
Take online surveys
You can take surveys online and get paid. There are several legit survey websites that pays to conduct surveys, watching videos, playing games and so on.
I have tried a couple of survey sites. However, the pay is less if you give only an hour or two. If you have ample of time and wouldn't mind stick online for a long time, websites like Swagbucks, Survey Junkie, Opinion Outpost are the legal ones and could try them.
Can you consider them for earning thousand dollars a month? Probably not. There are better things to do, I would say.
Except for a few, most survey sites deposit money directly into a PayPal account.
Rent a spare room in your home
Just like you rent your car for some extra cash, you could also rent your spare room if you have for a long time and use the room to earn $100 instantly.
It is a super easy way to earn money fast. You don't have to work on anything. Initially, you just need to clean up the room before you put it on rent.
If your house location is closer to the city, and you are providing other amenities, you could fix your rent higher.
So, by the end of each month, you could earn more than $100 a day.
Rent your car out
If you have a car and you haven't been driving much lately, instead of keeping the vehicle ideal in your parking space, you can consider renting out your car.
You can rent your car to the car rental companies like Hertz, Avis, Budget Rent a Car.
In India, you can rent your care to Zoom Car, and selfdrive and earn money. You will be paid on every booking request. However, different companies work differently. The main thing is your investment will bring you money.
Pros and Cons of Renting your Car
Pros
Ofcourse the money
Your car won't sit for long without driven, which means issues like flat tyres, dead battery, cracked belts and etc won't happen
Cons
Your car won't ever be like before because people are messy and your car will be filled with dirt
Even though the car rental companies provide insurance, accidents happen as not all drivers drive carefully. There will be scratches and minor dents that usually insurance don't cover. Thus, your money will be spent on the repair
During an emergency, you may not get your car. Thus, you must keep another vehicle at home, which is another expenditure
Become an Uber driver
If your regular job has flexible work hours, and you are looking to make $100 a day fast, join Uber as a driver.
It is one of the best legit ways to earn money fast. You can make $100 a day easily driving an Uber for at least five hours.
Uber earning differs with the distance and location. If you pick up passengers on busy periods, your fare charges will get a hike. Uber takes commission on each trip plus the fuel charges, that you have to add. Overall, you can earn $100 a day through Uber if you want. It is doable.
Become a freelancer
You could work as a freelance writer and earn $100 days without an investment. A demand for talented writers will always be there in the market. There are several websites that pay to write.
However, companies are ready to pay more than $100 if you have a niche writing skill. Places like iWriter, Contena, Textbroker are significant sites to dig in. There are more sites that give exposure to the freelance writers, which I will provide a list of in a separate article.
You can work as a ghostwriter, work for various blogs, create SEO content for businesses.
The options are not limited, however; it is also difficult to earn $100 a day unless you have the expertise, massive depth in writing and industry knowledge.
Teach English online
If you are a native English speaker or your spoken English is good and have a degree on English language or communication, you can apply to sites that teach English online.
You can earn a decent figure hourly rate by teaching online from your home. All you need is skill and compassion towards kids.
VIPKID is no longer accepting teachers from outside China.
But there are many others where you can apply and once get approved, you will soon start to earn money.
Check out the sites Cambly, Tutlo, Preply.
Every English teaching online platform's charges are different on hourly based. Usually, on an average per hour, you could earn $15-$20 from these sites.
Become a blogger or a YouTuber
YouTube is slowly becoming saturated. Almost everyone has a YouTube account and creating videos. But not everyone can make money out of it.
Likewise, the Google search engine has a plethora of websites of different niches. Creating your blog is not enough. There are a ton of things to do to drive organic traffic on your site. The competition is beyond anything.
Every blog is competing for millions of traffic. Because when you have traffic coming on your site, it will pave a way for the sources of income.
Once your channel or website stood out, making $100 a day is simple.
You can monetize your site and channel with Google Adsense, Sponsored post, affiliate program, ebook selling and so on.
This is yet another one of the best legit ways to make money online.
Write an ebook to make $100 a day
If you have an expertise in some field and want to write an ebook where you will accumulate all your knowledge and can earn money by helping others.
Not everyone has the knack for reading a book. Some prefer to read ebooks. Making a sale of your ebooks is hard, especially if you are new to this.
The secret of making money online is how good and creatively you can promote your products. Your work doesn't end here. Work on building your audience who might be interested in purchasing your book.
For example, you have a blog on a relationship where you give solutions for every relationship issue and aim to help others who might be facing the same issue.
Suppose you have written an ebook on 'relationship issues and how to mend your relationship.' Reach out to people who are looking for some advice. Recommend them your book and make a sale.
Once people start admiring what you do, there are chances you could make more than $100 a day by writing and selling ebooks
BECOME A SOCIAL MEDIA MANAGER
If you have the degree and skill, you can help businesses building their social media presence by increasing their followers, creating social campaigns and content for them. Basically, managing their social media pages and accounts.
You could freelance as a social media manager/analyst, get in touch with small businesses that need help maintain and growing their social media presence. You could be get hired and paid on hourly rates that could be go up to $25.
Thus, working for 6 hours could make you more than $100 a day.
Sell products online
You can start selling any products online and if you could sell one or two products, easily you could earn $100 a day.
You could sell your own products like an online course, or any services and make money out of it. Sites like Udemy, Skillshare, provide a legitimate platform where you can sell your online courses and earn.
You can also sell other people's product, market them, generate leads and get a commission. Commonly known as 'Affiliate marketing.'
Choose the products where the commission rate is higher, which means if you could sell at least one product a day, you might earn more than $100.
BECOME A VIRTUAL ASSISTANT
You can freelance as a VA. The benefits of working as a VA is you could work remotely.
Websites like Upwork, Fiverr, MyOutDesk, Virtual Employee can assist you with finding a virtual assistant job.
Make extra shifts at your workplace
If you have a steady job, you can work extra shifts and can get the shift allowances. If you work in the IT industry or any big MNC, working extra can be tiresome, but the allowances are pretty high when you work at night shifts.
If you have the stamina and are desperate for some extra cash, work on extra shifts and make money.
Clean pools
Having a pool at home is probably the coolest thing to own. But you also have to maintain it. A swimming pool should ideally be cleaned every week to prevent the water get contaminated with germs and bacteria.
Now, you could start a side hustle business of swimming pool cleaning services. Clubs, houses, resorts look to hire pool cleaners. If you have all the supplies, and knowledge of how to clean swimming pools, you can start making more than $100 for working a few hours.
Even if you have a regular job, you can take up the pool cleaning job on weekends and enjoy earning money.
If you don't want to put yourself on physical pressure by working 7 days a week, you can hire someone else who knows the job well and give them a share of your earning.
And this will make it easier for you to focus on growing your business.
Rent out parking space
If you have enough parking space, why to keep it vacant? You could make money out of it the easy way. Many have two cars but only one parking space. They often look for parking space that anyone will rent out.
You could charge hourly or a day.
For example, if you charge $20 per hour, if anyone uses your parking space to park their car for 5 hours, it will give you $100 a day.
Use your property smartly to make money.
Sell Photographs
Photography is no longer an expensive hobby. If you are good at it, have the eye to capture great detail. Photography can give you a sustainable life.
Apart from the photoshoots, event shoots, you can sell your photographs online through websites like Shutterstock, 500px, Fotolia, Getty Images.
You can also use Instagram as your photography portfolio where you can upload your high-quality images and promote your work.
If you have a niche that will make you an expertise on that field and will give you the credit to ask for more money.
For example, if you have an extensive drone photography knowledge, clients who are fascinated with drome shots will hire you and pay you more.
More than the photo selling websites, it is Instagram where I think you should devote more time to promote your work. Using the right hashtags, it will give the maximum exposure to your account and there are brands who look for collaborations.
Thus, if you get one client, you could make $100 a day easily.
Website flipping
If you want to turn your website into a business, the quickest way to earn a lump-sum amount is by flipping websites. You work on establishing a website, post quality content on your niche blog, give it a clean look and keep the website running for at least two years.
When you see the right moment, sell your website where you get a higher price for it. Likewise, you can create several profitable niche based websites and sell them on legit platforms like Flippa.
With the money you get, you can reinvest in growing your business, getting more resources, purchasing more tools to make your job easier and less time-consuming. Invest your money in increasing the productivity.
Become a babysitter & earn $100 a day
Babysitting could be a great side hustle where you can make money fast. If you are above 18 years-old and you like kids, babysitting could be your new side hustle.
It's a kind of job where you get paid about $25 -$30 per hour to look after other's kids when their parents are not at home.
Be responsible enough to be able to take care of the kid. Just be at home, play with them, engage them in activities and earn money each time you babysit.
Tutoring
Tutoring can give you good money in cash. You can provide tuition to student on subjects in which you are good at.
For example, I used to tutor high school student on English language and literature when I was in college. It was a great part-time job to earn some extra cash.
Because I had this, I never had to ask for money from my parents. I could pretty much managed my finances with the tutoring job.
Now, you can provide both offline and online tutoring. Not only subjects, if you are fluent in any second language, you can teach your student and get paid hourly.
How much to charge for tutoring?
It depends on what are you teaching, which class, and for how many hours. Rates can vary. Yet, on an average, you should charge $20 an hour and it could go higher if you are giving one to one private classes.
Airbnb hosting
Want to make more than $100 a day?
If you have a property near a tourist location, Airbnb hosting will be profitable for you. You can start by listing your place to Airbnb.
Arrange your property like to do all the cleaning, installing a keyless lock, creating enough space for the guest, stocking with clean sheets, towels and toilet papers. Secure the property with camera, lock and set alarm. Keep checking procedures easy for the guest.
Make your property affordable in the market. Airbnb cuts a percentage upon each booking. But it lets you enjoy with the rest of the income.
In India, people prefer to stay in Airbnb in places like Goa, Kerala, and the northern Himalayas to get a vibe of the local.
Airbnb is very popular in the European tourist spots.
Delivering food & groceries
If you have the time, you can make them productive enough to make some money by delivering food & groceries.
Food delivery apps like DoorDash let you connect with customers who want their delivery of food to their doorstep. You can collect their order, deliver and earn money instead. You can make $25-$30 on every delivery depending on the distance.
There are no strict rule of working every day. You can work on your terms.
There are UberEATS that pay you instantly after you complete a food delivery.
For grocery delivery, I feel Instacart is great. If shopping is something that you love to do, you can turn this into a money-making opportunity.
Pretend yourself a shopper. You pick those items that your customer wants and deliver them to their place. The money will get transferred to you once you finish the delivery. The only drawback I find with this app is it is only available in the USA.
Packers & Movers
You can start a small business of packers and movers where you will help people moving out their furniture and stuffs from one place to another.
You might not get customers every day in this kind of business. But if you promote your services in your neibourhood places and let them know how you can help them. Once you start getting customers, making $100 a day will be easier.
For example, to minimalize your cost, you can only provide services within the city. When someone is moving from one part of the city to another, you can provide them with your services of complete packing and moving of every household item.
It is a quite profitable business in big cities, but competitive as well.
Invest in small businesses
If you want to make $100 a day and $3000 a month, you have to invest and reinvest your money.
Pick up small and emerging businesses, study them well, and after a proper in and out analysis of all the possibilities and probabilities, invest your money.
For example, you have an acquaintance who is running a small app, making a start-up, invest some time and become a partner. The profit each month the company will make you will get a share from it.
Likewise, the profit share you get from investing in one reinvests it into another. Suppose you know there is a demand of English-speaking professionals in your area because people living there are non-English speaker.
If you could hire an English speaker and open a coaching institute, the chances are high people will join to learn the language. If you could hold their interest and fulfil their learning desire, in no time, your institution will flourish and earn the profit share.
Again, you keep turning the wheel of investing and reinvesting in different places.
With time, all your investment will give you more than $100 a day while you doing nothing except monitor your money.
Certainly, there is risk, but if you have the guts and calculative about money, you could nail it.
Become a travel guide
If you live near mountains or beaches all your life, you would probably know every nook and hook of these places. You could become a part-time travel guide during the tourist season and make money.
You can either work individually or could collaborate with hotels, resorts and travel agencies. Tell the tourist mesmerising stories about the places and take them to hidden spots that will amaze them.
Designs websites for others
There is another one of the best legit ways to make $100 a day is by designing websites for others. If you have the experience and have been doing this for a while, you might have the sources from where you could get clients.
On every website designing, you could charge a standard $100 -$500. As you have the designing skill, you could also earn money by logo designing or template making.
These are side hustle gigs that let you earn money fast if you have the skill.
You could sell any designs online through shopify and DesignCrowd.
Become a proofreader
If you could devote 2-3 hours a day, proofreading would be an ideal freelancing job for you. You will be provided with content to proofread them and earn money hourly.
There are a few legit websites where you can apply as a proofreader. Upon approval, you will be required to give an online exam to test your skill. Based on your result, you will be hired and continue to get proofreading work.
Car washing
You can make legit money through a car washing service as well. You can either set up a self-service car washing zone or provide professional help. If you charge a standard $10 for car washing, you could easily make $100 by the end of the day with 10 car washing services.
But weekends are always the busiest for any service providing businesses. Hence, you could earn from $100-$500 on weekend.
Providing music lessons
Parents always want their kids to do well in other cultural curriculum apart from just academics. If they find their kids are fond of music, they want musically talented individuals to train their children.
If you have the experience and depth of music. If you have learnt music and know everything that you could teach your student, you can make a sustainable life by just teaching music.
You can either start a music school or could provide private music lessons, where you could charge around $30 -$50 per hour. Not only music, you could also teach them instruments like guitar, violin, piano, tabla if you know any of the one.
Become a Personal Fitness Trainer and earn $100 a day
If you are a fitness enthusiast, you can build your profile and get hired as a fitness trainer.
Today, people take fitness seriously. They go to the gym, do yoga and meditation. But sometimes we felt the need of a fitness trainer.
You can work as a fitness trainer part-time in a gym. You can get hired as a personal fitness trainer and get paid hourly. It is one of the best side hustle to do, along with your full-time regular job.
You can schedule your appointments. You don't need to go to the gym every day or need to stay in the gym 9 hours.
You can conduct small fitness classes in the open space too, like in a park.
You will need to get certificates like (the National Federation of Personal Trainers) or the Aerobics and Fitness Association of America (AFAA) and some fitness credit.
Do you know how much celebrities' s fitness trainers make per day?
You could be that person.
Last Words
There are so many things you could try to earn money as a side income. I have a listed a few ideas that could help you with your finances.
(I will keep adding more ideas when something pops in my head or if I heard or read somewhere.)